Precision RV has been all over the West this year.  From Arizona to Colorado, California to Oregon, we've seen quite a few miles this year.  And while traveling we worked with happy RV Solar Customers across the west as well.  For this particular Airstream solar installation we did something a little different.  We shot video as we went along to share here with you.  It's our first effort doing a full YouTube Video of our solar work, and we'll be improving as we go along.  Remember, Precision RV specializes in solar power for RV's of all shapes and sizes, not video production.  But we thought you might like to follow along with us and our work.
27 Foot Front Bedroom Airstream Solar Installation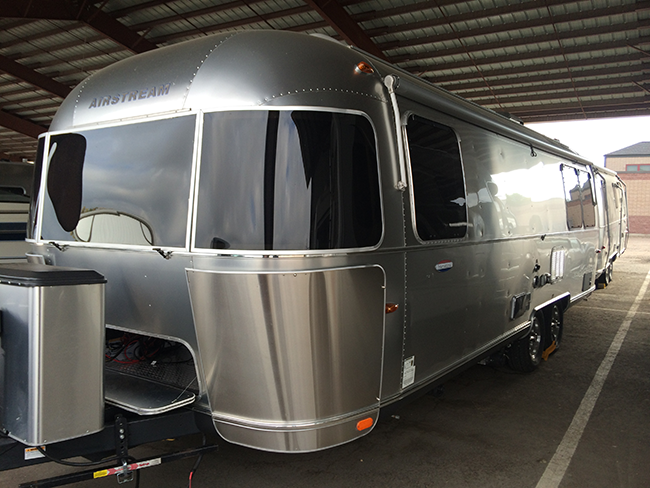 This particular Airstream solar installation was on a 27 foot front bedroom.  The front bedrooms always have a nice layout to work with, and often we find that using the under bed storage area is best for assembling a lot of the solar plant.  That was the case with this solar power job as well.  In the video you'll see that the new AGM Lifeline batteries and the control system are all built right under the bed.  You'll also note that the installation didn't take up all of the under bed storage.  We understand that RV'ers, especially full time RV'ers are very space conscious.  With that in mind, we always strive to minimize the space we take with a new solar power plant.
For the roof top of this Airstream we included 600 Watts of solar panels.  A big part of what can be put on top of any RV has to do with space and the roof's layout.  In the case of this Airstream solar power system we had plenty of room for 600 Watts up top.  The types of panels we select for any RV we work on has to do with roof space and panel output.  For this install it was a relatively easy job adding 600 Watts.
RV Solar Installation Video Number One
Be sure to watch through the video at the end of this post.  We talk about parasitic draw on your RV power plant, provide you with a full look into the power plant installation, and a little more about our RV Solar power work.
We already have a second video that is being assembled right now, and should be up in the near future.  Video number 2 features an RV that isn't an Airstream.  And yes, we do a lot of work with the Airstream community, which is why you see several posts here about work with them.  Be assured, we work with all types of RV's.  And we're grateful that the Airstream community has so much confidence in our work!  Contact us today to see what we can do for your RV Solar Power needs!

A quote from the customers
After posting about this job we received an update from the Airstream owners we worked with.  Here's what they had to say.
Hi Marv, we had a great time. The solar and batteries worked well. We had a 35degree night the first night and watched a movie on DVD. Total we used 65ah over night (down to 73%) The best part was that the solar did it's job and charged to 100% while we were out and about. It was really awesome not having to break out the generator. Indeed a life changer.