While Precision RV works on all types of RV's, there are several RV communities that we've become incredibly familiar with.  One of those communities that we get extra attention from has to be Airstream owners.  As the title tells you, we just completed another Airstream solar installation, and we'll talk about what we did for our latest customer.
An Airstream, Solar Panels, Lithium Batteries & More!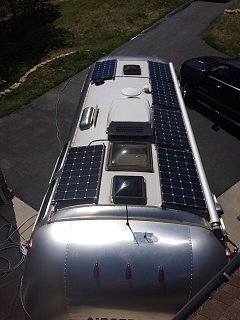 For this particular customer Precision RV  traveled to the beautiful state of Colorado.  The Airstream we worked on was a 2015 25 foot front bedroom model.  There are so many different layouts, each Airstream seems to be custom when it comes to setting up the solar power system and component placement.
What did we put into this particular Airstream solar installation?  Here's the list as itemized by our customer from his own write up on the Air Forums (an Airstream forum site):
40 amp Bluesky MPPT controller
Roof electrical box
6 each 100 watt solar panels, for airstream, adj feet, 10 ga roof wire, weather tight, terminations heat shrink
2  200 AH Lithium battery
2 each sense boards or BMS 200 AH
1 BMS (Battery Monitor System), computer, lcd screen, cables
500 amp disconnect solenoid
Magnum 3012 hybrid Inverter
Magnum MERC50 remote
Sub panel/ breakers estimate Class T Fuse and Holder
4 ga wire
All fusing and terminations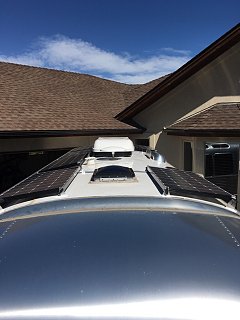 Shunt, pro remote with battery monitor
Misc Install inverter: 4/0 wire, Lugs, heat shrink, loom, 600 amp heavy duty on/off, 10/3 AC wire
Misc supplies, Split loom, seal, 2/0 battery cable, Lugs, heat shrink, ties, battery straps, wood, seal, shop supplies, misc connectors
In the case of this installation, Precision RV made use of the under bed storage area.  Since this particular Airstream was a "Front Bedroom" model, under the bed makes perfect sense.  Plenty of storage space available, and convenient for our work.  With Airstreams we're always working with limited storage space, so we find ourselves getting as creative as possible to minimize the amount of storage space we use in the installation.  With 5th wheels and Class A's we always have plenty of space to work with, but often in travel trailers we have to come up with custom solutions often.
As with many of our recent installations this was also a Lithium battery job.  There are so many "pro's" for using Lithium these days, and our customers are reaping the benefits of the technological leap in power storage with Lithiums.  The batteries consume less space, weigh less than comparable AGM solutions, and provide more usable amp hours than AGMs.  It's pretty clear to us that Lithiums are the way to go.
Our Customer's Impressions Of His Airstream Solar Installation
Praise is always appreciated.  And this job is no exception.  From our client's write up on the Air Forums, here's what he had to say to his fellow Airstreamers:
I hired out the job to Marvin Braun at Precision RV (precisionrv.com) . He is an experienced solar consultant, contractor, installer and small business man. He is one of the few experienced guys who has a track record with the lithium batteries. He specifically used the Elite Battery brand. He drove up from AZ this week to my home in CO to do the full install.  Posted 5/19/16 on Air Forums

Not many people today have installed the lithium batteries and all the little goodies that go with these and I wanted it done right the first time. For my peace of mind, knowing my limits, this is well worth my hiring it out to a master solar consultant, component distributor and installer (IMHO). A one stop shop if you will. My time is worth a value of money and I don't have enough of it as it is (time that is).  Posted 5/21/16 on Air Forums
If you'd like to read his full write up on his experience with Precision RV, and see the Q&A that followed with other members of the forum, follow this link.
The image gallery below is courtesy of our customer.  He documented the work while we installed his new system!